I have an alcove where I wanted to put in some floating shelves. I wanted to use some solid wood I had lying around, to match the rest of the interior; this ruled out most of the methods described online: (i) building up the shelf around a bracket, and (ii) using hidden mounting hardware would be hard to get precise and would not provide support on the sides.
So inspired by some of the options instead I tried to get by with just brackets on the three sides, in a solid wood shelf. I ended up with 12mm brackets of plywood in a 26mm solid wood shelf, and that was plenty sturdy.
Step 1 was to cut out the rough shelves, with plenty of extra width, and rough fitting the plywood bracket pieces. It makes sense to leave as much on the top of the slit as possible, as this will be the failure point if overloaded. The excellent wood workshop at Hal9k came in very handy!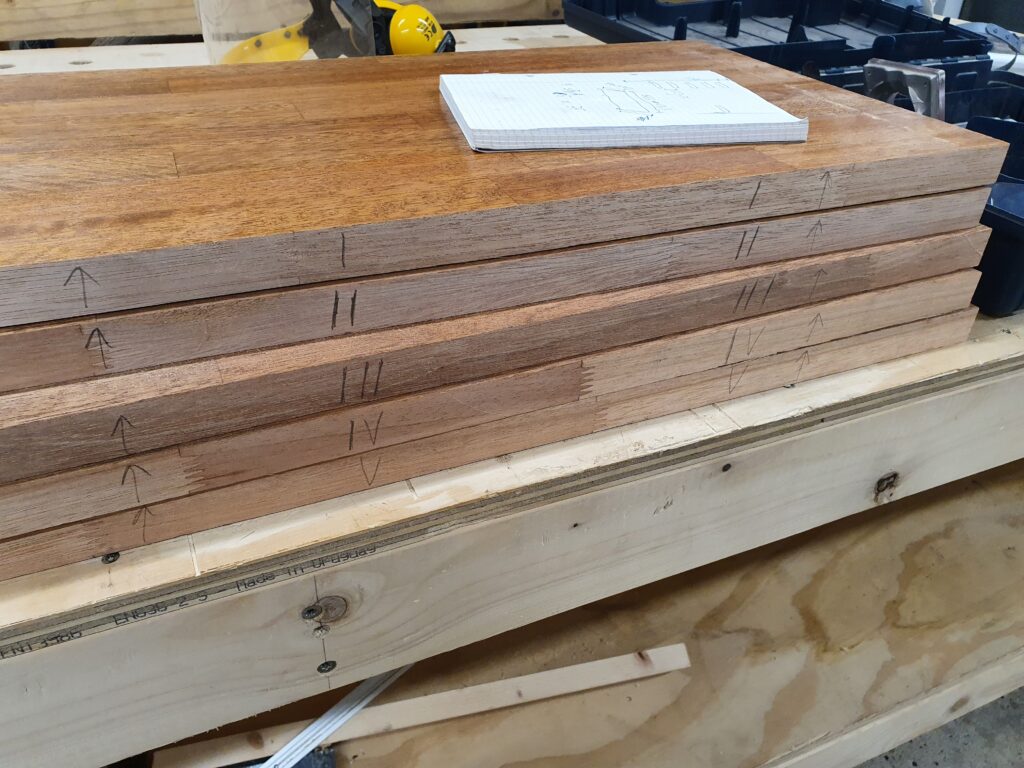 Step 2 was to mount the plywood brackets in the alcove. Pretty easy to do using a laser level, biggest problem was getting the rawplugs in precise enough for the level to be kept.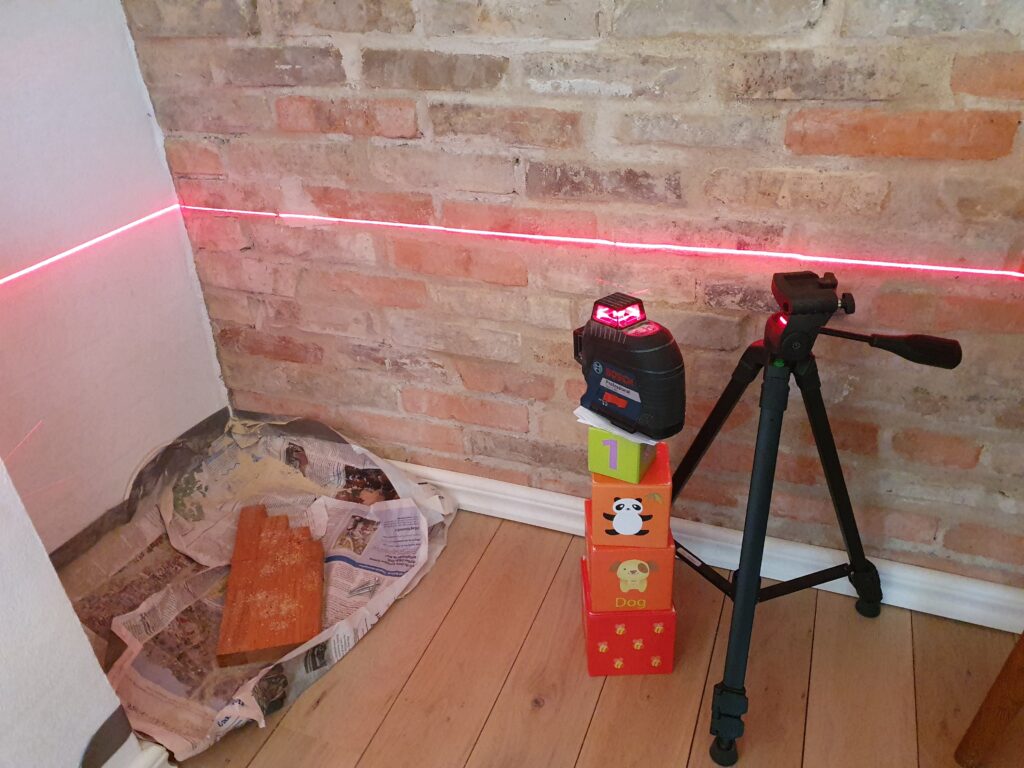 Step 3 was fitting the shelves individually, accounting for the crookedness of the 3 walls. The scribing method used by Rag'n'Bone Brown was pretty useful, just doing it in multiple steps to make sure not to cut off too much.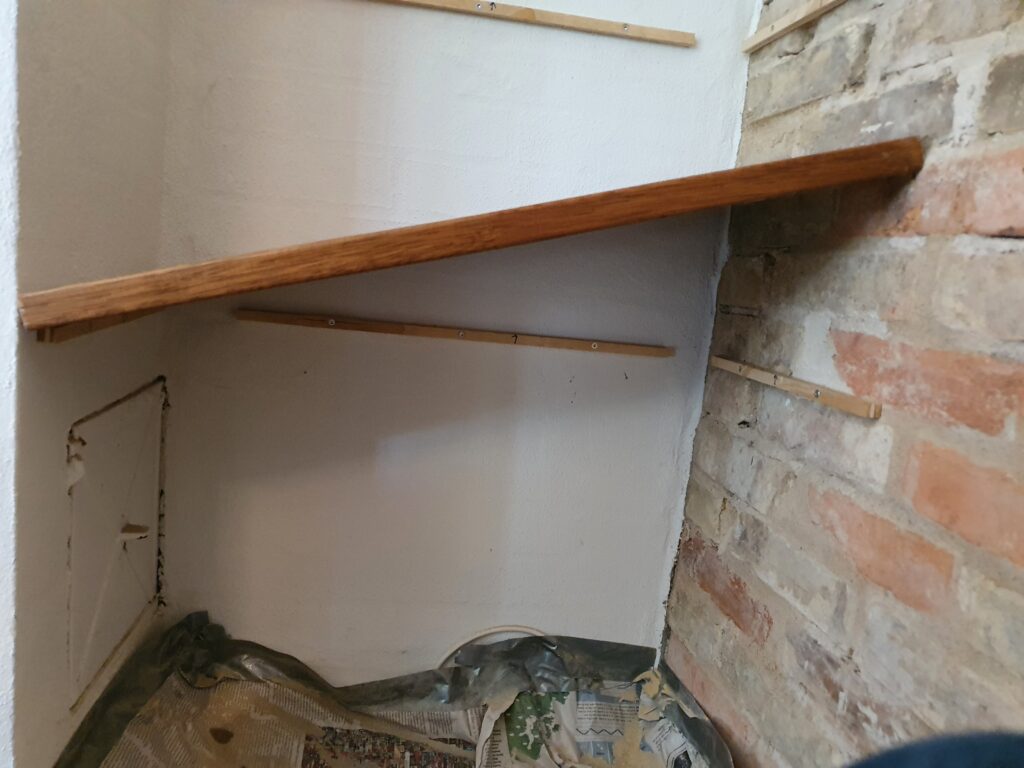 Finally, all the shelves in final mounting. Getting them in took a bit of persuasion with a hammer, and minor adjustments with a knife to the plywood brackets, as it was a tight fit. The key again was small adjustments.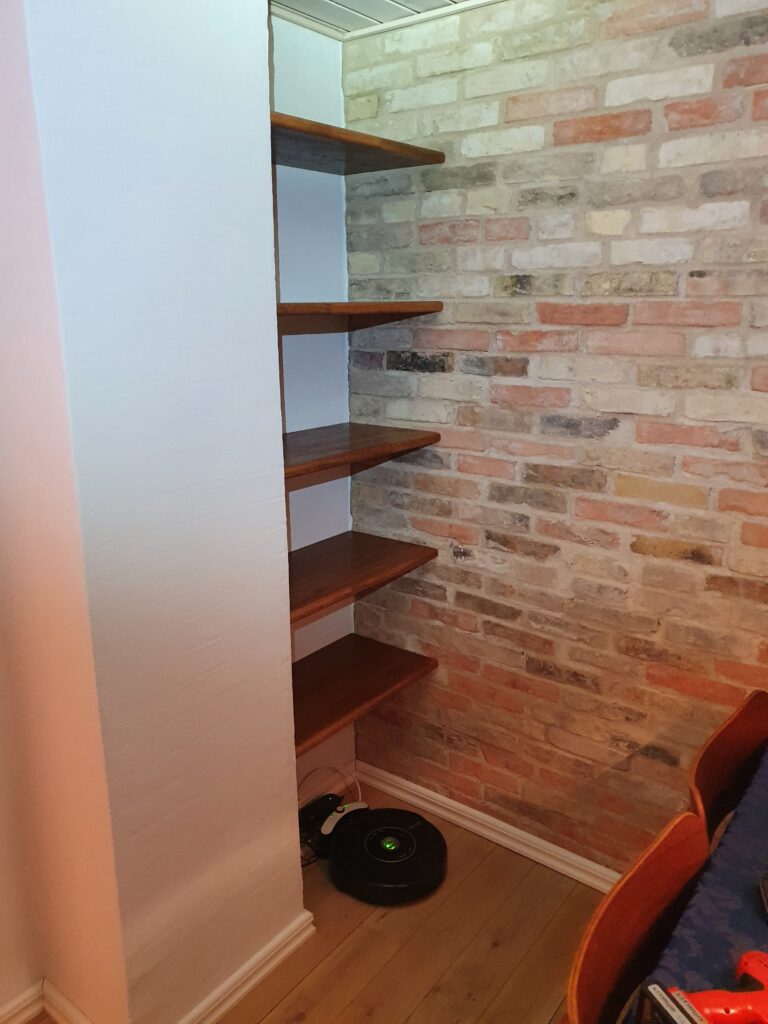 One concern with such a tight fit would be wood movement; however most of the wood movement is "across the grain" which in this application means "in and out" from the alcove, where the wood is basically free to move as the shelves are not fastened to the brackets in any way.
Another concern would be if the relatively small brackets (12x12mm) can handle the load of the relatively wide shelves (60cm wide, 35cm deep, and 2.6cm high). There are two failure scenarios: (i) the wood could split above the slit, (ii) or the bracket could deform or be pulled out. Neither seems likely as (i) applying a static (or even dynamic) load large enough to split the wood seems implausible, even at the weakest point in the middle of the front, and (ii) the tight fit counteracts the brackets ability to be pulled out since pulling out in one side would have the shelf hitting the wall on the opposite side.
All in all a very satisfying project to work on and complete!